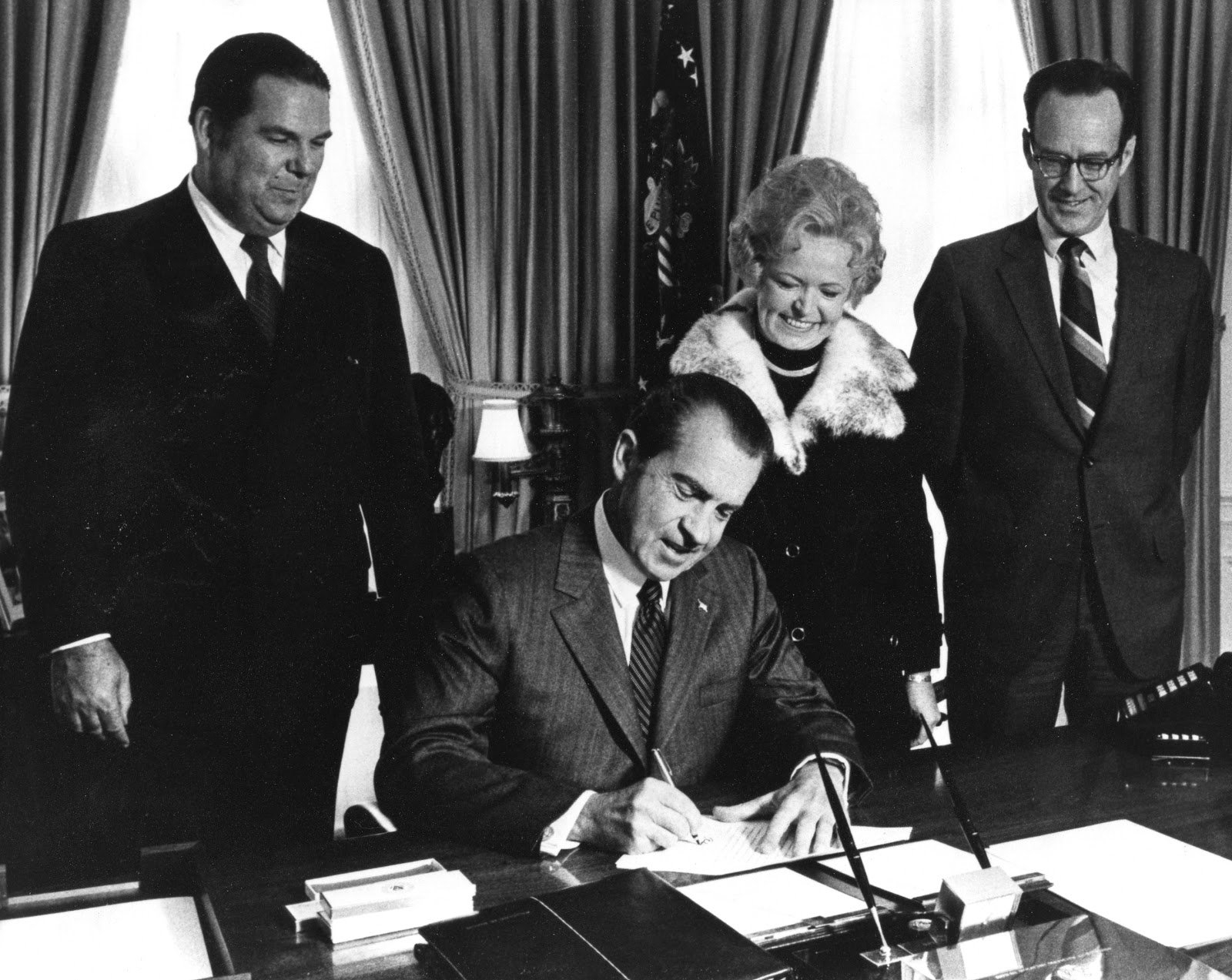 For nearly 50 years, USAGov has been working to serve every person and every government agency. Our history has been full of change, and never static as we improve people's lives by connecting them with the government services and information they need.

USAGov grew from the consumer movement of the 1960s. It was the era of activists and federal programs joining forces to protect people from dishonest ads and unsafe products. That partnership also unearthed a discovery: agencies had an abundance of consumer information, but no system for sharing it. A cross-agency committee persuaded President Nixon to address the problem. In 1970, he established the Consumer Product Information Coordinating Center within the General Services Administration. It was a big name for that tiny team of go-getters. Their mission was a big one too: collaborate with agencies to gather all that consumer information and get it to the people.
Print: High Tech, 70s-Style
Over the years, our name changed. And in the beginning, the program known today as USAGov found that the best way to educate people was through printed publications. Lots of them.
We helped scores of agencies develop and promote publications on money, health, federal benefits, scams, and more. They appeared in USAGov's Consumer Information Catalog, a quarterly listing of more than 200 free and low-cost publications. The Catalog was so popular that by 1973, we'd outgrown our local GSA warehouse. Distribution moved to the Government Publishing Office's center in Pueblo, Colorado. To keep up with the growth, Pueblo got us our own zip code and mail trucks. We also shared some pop culture fame. In 1975, USAGov started using the Pueblo name, the Catalog, and other USAGov services in a series of public service print and TV ads spanning 35 years. As a result, one in five people surveyed nationwide recognized Pueblo as the home of government booklets. By the time we turned over full operation of the publication program to GPO in 2016, USAGov received 76 million orders for 1.2 billion publications.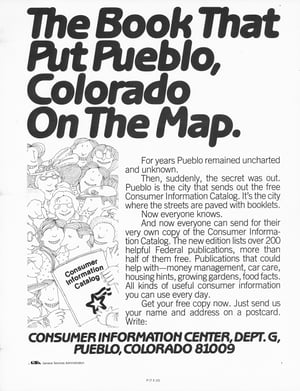 The Catalog's most popular publication was the Consumer Action Handbook. We published it, as well as its Spanish counterpart, the Guía del Consumidor until 2018. Both books' essential features, including a sample complaint letter and tips to save money and avoid scams, are now on USAGov's websites.
Entering the Digital Age
USAGov debuted one of the first government bulletin board systems in 1992. This precursor to the internet allowed anyone with a modem to dial a GSA server in Washington to read or download electronic versions of the publications listed in the Catalog.
Two years later, people were beginning to discover the internet. And we were with them from the start with pueblo.gsa.gov. The homespun site drew more than a million visits its first year. It was eventually replaced by Publications.USA.gov, which GPO now operates as the Pueblo.GPO.gov U.S. Government Bookstore.
In 2002, we began managing USA.gov, the federal government's official website. Originally named FirstGov.gov, the site debuted two years earlier when an internet entrepreneur gifted a search engine to the government. In 2003, its Spanish counterpart, USAGov en español (formerly GobiernoUSA.gov) came on the scene. Both sites help people easily connect with programs, services, and information from across federal, state, and local government. Time Magazine named USA.gov one of the "25 Websites We Can't Live Without."
Over the years, we've managed a variety of other websites, including:
Kids.gov - The government's official website for children debuted in 2001 in response to a White House executive order. It connected families and teachers with fun and educational information from across government.
HowTo.gov - The one-stop resource for government web professionals, in the early 2010s, it spun off and became the DigitalGov program.
By 2013, a third of the U.S. had turned to mobile devices as their exclusive way to access the internet. USAGov met them there with a new responsive design. It scales to deliver the same content in the right format for computers, smartphones, tablets, and any future mobile devices.
Outreach Through Social Media and Email
We've experimented with every major social media platform and find that bilingual Facebook and Twitter accounts work well for us. Both platforms let us hear directly from and give answers to our followers. They're also effective platforms for cross-agency partnerships. With an audience of nearly one million social followers, our experience helps us design, produce and host Facebook Live events and Twitter chats that are informative and interactive.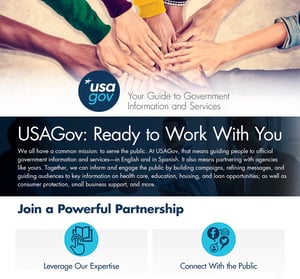 Our social media event partners include the Federal Trade Commission, the Small Business Administration, the Social Security Administration, and the U.S. Patent and Trademark Office.
We also support agencies through our email marketing program, serving nearly one million subscribers. The carefully-crafted messages feature engaging images and compelling calls to action that connect recipients with information on recalls, resources geared to current events, government services and more.
The Contact Center and Human Connection
Even with a strong web and mobile presence, we recognize that sometimes, it's easier to talk to a real, live person. USAGov met that need when we began managing the Federal Information Center in 2000. Part of GSA since 1966, the FIC ran a nationwide network of phone-in and walk-up contact centers to guide people, one-on-one, to the right government program to answer their questions. Today, the bilingual service is known as the USAGov Contact Center. It offers a web chat service and takes calls from the public at 1-844-USA-GOV1. In addition to helping USAGov users, the center also serves federal partners including the State Department, Login.gov, the Food and Drug Administration, and the Fish and Wildlife Service.
Guiding People Through Change and Times of Trouble
USAGov is America's guide through changing times. From the inflation and energy crises of the 1970s to health issues including AIDS and Zika virus, to the introduction of personal computers and mobile devices, we've given people advice they could trust.
Since the terror attacks of 9/11, people have relied on the contact center and our digital channels during emergencies. The Department of Homeland Security now designates USAGov as the official channel of disaster communications to the public for the federal government.
During the 2017 devastation of Hurricane Maria, USAGov team members in DC and on the scene with FEMA in Puerto Rico created response strategies using social media. They targeted influencers to connect those affected by the hurricane with critical survival and recovery information.
2019 and Beyond: USAGov is Always on the Move
After five decades, USAGov is still experimenting. We're currently investigating new ways to make our content easier to find and use in major search engines. And we've been busy exploring artificial intelligence with the bilingual USAGov chatbot. Currently, it gives users a personalized experience in learning about consumer scams. But this is just the beginning. Later, the chatbot will cover more topics and integrate with our contact center. It's another step toward making our websites and other digital channels increasingly interactive and focused on top tasks and transactions.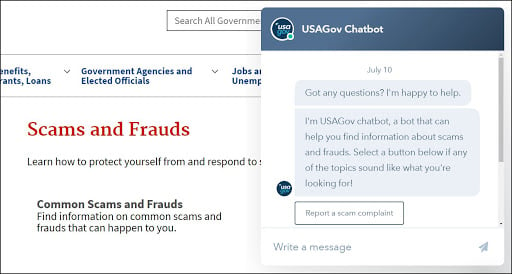 From the start, USAGov has been the central, official source of government information and services for the public. By compiling topical information from multiple agencies, we give people a more complete understanding of how their government works. We create opportunities to share data and lessons with agencies to help influence the way they provide their own public experience. And by listening together as an office to calls coming into our contact center, we develop insight and empathy for the people who come to us for help. As USAGov continues to evolve, our work will continue to be guided by technology, data, and caring for the people and agencies we serve.