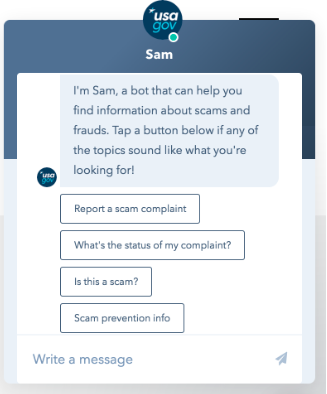 We've wanted to try out artificial intelligence (AI) for a few years. We get tons of questions from the public, and wanted to see if automation could help us answer them quicker. We also knew that scams are one of the top tasks for our website and contact center audiences. In late 2018, we blended our exploration of AI and expertise in scams to launch our chatbot.
But first, we researched. We wanted to hear from people who'd been affected by scams. We recruited people who had contacted us about scams, either through our contact center or Facebook. We spoke to 32 people, who shared their experiences with scams. They didn't just tell the facts about reporting the scam. They also spoke about their emotions and motivating factors for reporting.
Our team held two workshops to make these conversations actionable. In the first session, we pulled noteworthy comments from those 32 conversations. We wrote them on sticky notes and then grouped them with other sticky notes that had similar themes. This session was critical for defining which problems USAGov would address. We learned that people were most concerned with three issues:
knowing the right place to report a scam
identifying if something was a scam, and
figuring out how to recover money they had lost.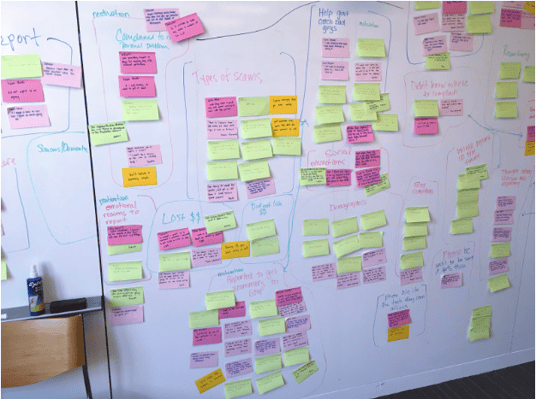 In the second workshop, we sketched ideas to address the most common concerns. After two rounds of sketching, we voted on the ideas that seemed most useful and viable for USAGov to create. This session led us to believe that a personalized experience might lead to better outcomes for our users. And thus the idea of our chatbot was born.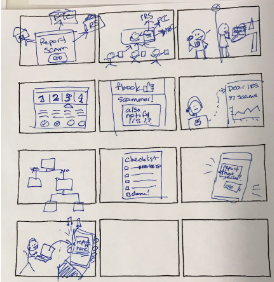 Before building, we created a flowchart to map out all the responses and navigation. This was key to directing users to an answer for their problem. Since we wanted Sam to be personable, we wrote friendly and empathetic messages. We learned that our marketing automation tool offers chatbot building capability. This expedited the time to launch, at no extra cost. In early February 2019, we launched the bot on three USA.gov webpages. In over a month we've had over 4,000 users, and 78% have successfully asked their question and gotten an answer.
We're still getting started with AI, but we have big plans for the future. In later versions, our chatbot will:
Be bilingual
Tackle more topics from USA.gov and USAGov in español
Accept and respond to free text entries
Ask users about their satisfaction with the tool
Integrate with our contact center, to answer basic questions.