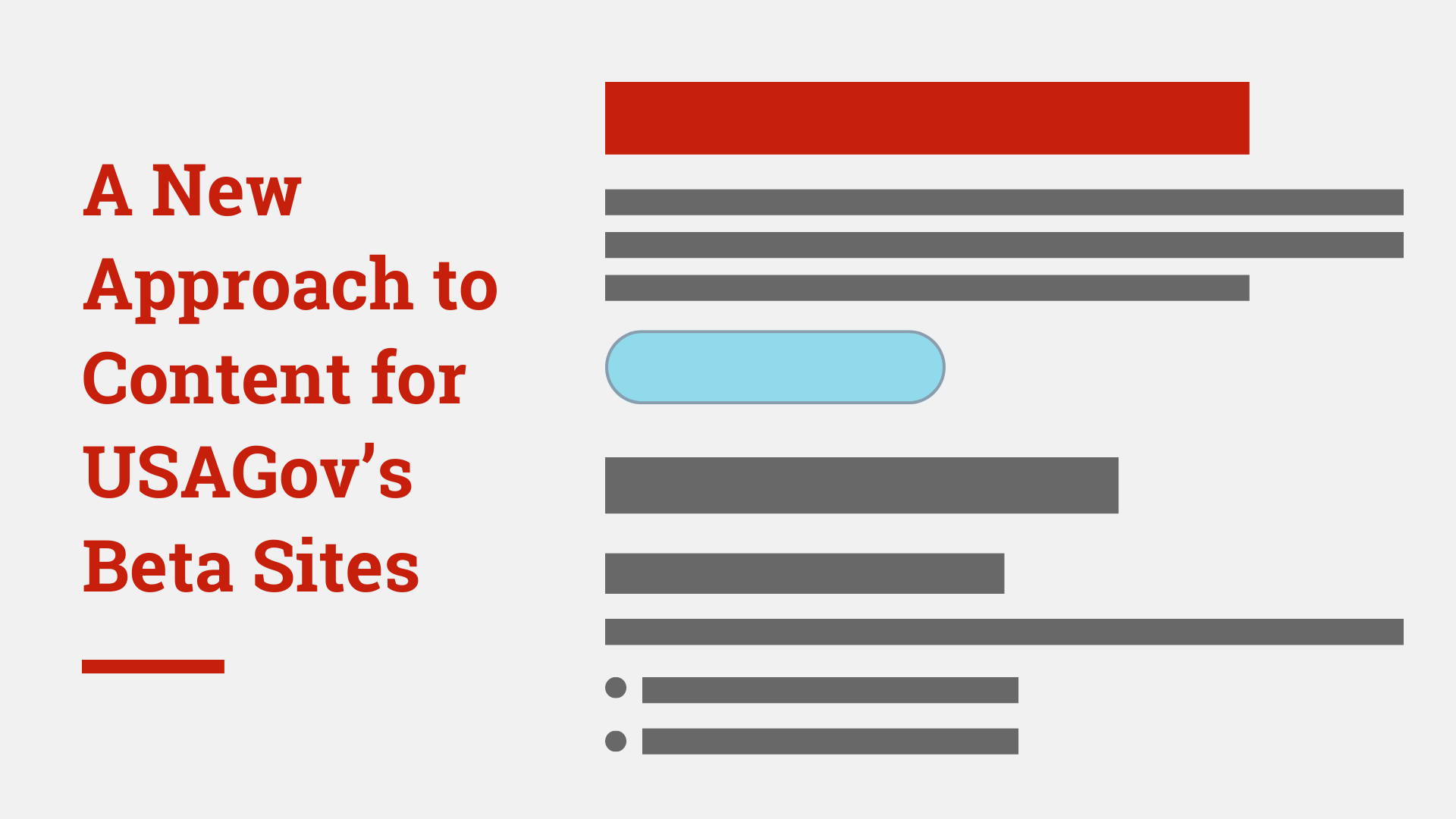 USA.gov and USAGov en Español have always taken a human-centered approach to making it easier to find and understand government information and services. As part of the larger effort to reimagine the USAGov websites, our content team developed new data-driven processes and best practices that reshape how we present content for beta.USA.gov and beta.USA.gov en Español.
Creating sustainable content
The content team developed a beta content guide at the outset of the project to help our writers incorporate insights from data and follow best practices when researching and crafting content. The guide continues to be updated and includes information on search engine optimization (SEO), structuring content, plain language, and content accessibility.
Letting data lead
While we'd used analytics and other data in the past, the beta project brought research to the forefront. No piece of content is now written without first checking our analytics accounts and researching keywords, search terms, survey responses, and contact center data.
Early in the project content design teams used this data to determine what content to include on the beta sites based on user needs. Our writers then built on this foundation, continuing to use data to determine how to structure information and write content optimized for search engine discoverability.
Simplifying content based on user needs
Another shift in our content approach has been to focus on only one user need or task per page on the beta sites. Our current sites tend to have longer pages that address multiple user questions or tasks within a page. This often presents users with dozens of links to different government agencies that they have to read through to find what they're looking for. The goal of our new approach is to reduce this information overload and focus on only the details users need to complete their task.
The result has been a larger total number of pages on the beta sites, but overall shorter pages. The average word count per page has decreased by 65 percent. Pages now feature either one call to action for the user or a smaller number of supporting links, with the average number of links per page decreasing by 79 percent.
Linking out instead of recreating
Another reason our overall word counts have gotten lower is that we can rely more on other agency websites to meet user needs. Government websites have come a long way since we last refreshed the structure of our content eight years ago. They're making information easier to find and available in plain language. So instead of having to recreate information on our sites, we can link out to more government content.
Restructuring content
Our English and Spanish beta sites incorporate the U.S. Web Design System (USWDS), allowing our team to use new features and explore better ways to present content. We've added more structure to our content to make it easily scannable and accessible. Our pages now include subheadings, lists, accordions, and alert boxes. The content team also worked closely with our UX team in designing content for the bilingual interactive tools that help users contact an elected official and report a scam.
We rely on usage data to help determine how to structure and order content on pages. For example, on our current site's federal student aid page, the link that takes users to the FAFSA application was not prominent on the page. But data showed that that was by far the most clicked link, so on the beta version of the student aid page, we made it easier to find. There is now a prominent call to action button near the top of the page to take users directly to the financial aid application.
Caption: Comparison of student financial pages on the current and beta English sites.
Thinking "mobile-first"
We know that almost 60 percent of visitors to our USAGov sites are using phones and tablets, so we take a mobile-first approach to content design. Our writers now draft content using a mobile template that allows them to always visualize what the content will look like on a small screen.
Looking ahead
Now that the beta sites have been publicly available for a few months, the content team is reviewing beta-specific customer comments and user testing results. We're working to fill in any gaps in our content.
We're also gearing up for the "cutover" when the beta sites replace USA.gov and USAGov en Español, making sure our SEO metadata is in place for a smooth transition. Once we reach that cutover point we will have even more customer data to draw on for evaluating our existing pages and determining future content needs.
About the Building Beta Series
The "Building Beta" series highlights our approach to work in creating beta.USA.gov and beta.USA.gov en Español. Follow along to learn how the USAGov team worked to create the new iteration of our bilingual sites. For more information about the beta websites, check out this post.