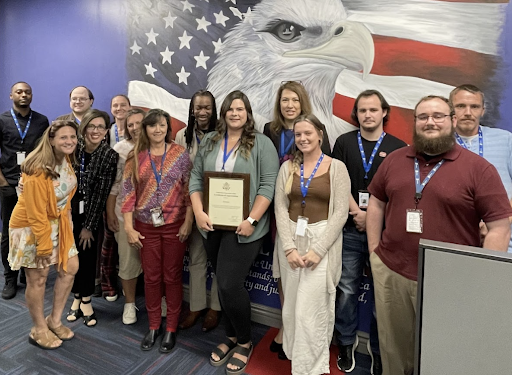 The USAGov Contact Center is known for its bilingual phone and chat services. Its agents answer questions from USAGov users about government benefits and services. And for decades, the contact center has also helped customer agencies, connecting the people those agencies serve with vital information.
Last summer, the U.S. Department of State's Office of Overseas Citizens Services (OCS), a longtime customer agency, honored the contact center team for its support during the 2021 evacuation of Afghanistan.
OCS works with U.S. embassies and consulates worldwide to protect Americans. Since 2001, the USAGov Contact Center has answered calls on their behalf from U.S. citizens overseas seeking assistance. When the evacuation of Afghanistan began in August 2021, OCS reached out to USAGov to ask for a special phone number dedicated to the evacuation. Within 48 hours, the new number was active and staffed 24 hours a day, including weekends and federal holidays. It served callers until the end of the evacuation.
After the evacuation, an OCS representative told Secretary of State Antony Blinken about the excellent work done by the USAGov Contact Center during the evacuation as agents were on the "front lines," speaking directly with evacuees. Secretary Blinken asked the OCS team to thank the contact center on his behalf.
In August, during the one-year anniversary of the evacuation, OCS and USAGov leaders visited the contact center. They toured the facility, met team members, and formally presented a certificate of appreciation, honoring them for their dedicated work during the Afghanistan crisis.