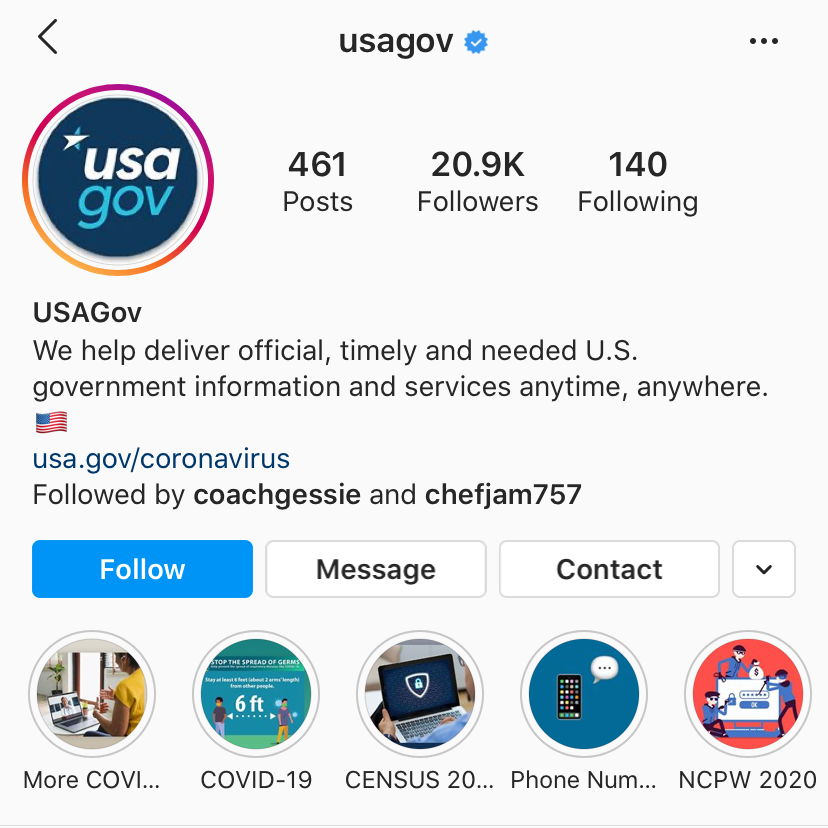 Social media is a key part of the USAGov outreach strategy. It helps us share quick and clear information directly with the public. We regularly review our social media channels to see where we're getting the best return on our investment.
In early 2020, we audited the performance of our @USAGov Instagram account to see what was going well and how we could do a better job of connecting people to government information and services. We analyzed the activity and metrics for the 141 Instagram posts we shared from February 2019 to February 2020.
The audit taught us six important things about our @USAGov Instagram followers:
People engaged the most with our posts in the middle of the week. Our followers liked, shared, and commented the most on weekdays. We saw an average of three times more engagement on Tuesday and Thursday compared to Monday-Wednesday-Friday. And like our other social media platforms, we got the least interaction on Sunday. Knowing this helps us concentrate the bulk of our posts mid-week.
Midday is the best time to post. Although most users are online from 9:00 AM to 3:00 PM, the best time to share posts on our account is during certain peak hours of engagement. Posting around 9:00 AM ET generates a lot of conversation and clicks as people often check their accounts first thing in the morning. Posting between 12:00 PM and 3:00 PM ET reaches the lunch or afternoon break crowd, while our west coast followers are beginning their day. In our next analysis, we'd like to learn more about how geography can help shape our posting strategy.
Infographics are more popular than we thought. At first glance, posts highlighting infographics didn't seem as successful because they had fewer likes and comments. But when we looked deeper, we realized they attracted more viewers from the hashtags we used with them. And they received about ten times more shares and saves compared to non-infographic posts. Because they combine information and data in a visually compelling way, infographics are great for helping people remember a message. We'll continue to use them in our Instagram strategy.
It's more valuable to spend time on stories than on videos. Video posts didn't perform as well as we hoped. They received the fewest likes. We believe this might be because people are quickly browsing through the app and don't slow down to watch our videos. With the amount of time and effort that goes into creating a video, the return on investment wasn't worth it. Stories or image-based posts may be a better option for us.
People engage with Instagram in different ways. On most social media platforms, people are able to like, comment, and share content. But Instagram is different. It also gives users the ability to save posts to revisit and to view stories for up to 24 hours. That gives us additional ways to identify the most relevant content and best topics to promote.
Popular topics differ from our other social media platforms. The Instagram posts that received the most likes focused on history, holidays, health, and travel. These topics had images that were captivating, reminiscent, and engaging. On Facebook and Twitter, topics that receive the most attention are related to money, safety, passports, scams, and recalls--often much less visually interesting topics.
As we continue to study our performance on Instagram and other social media platforms, we're helping our agency partners connect with their audiences. And we're learning better ways to meet people where they are, giving them the information they need in the form they want.