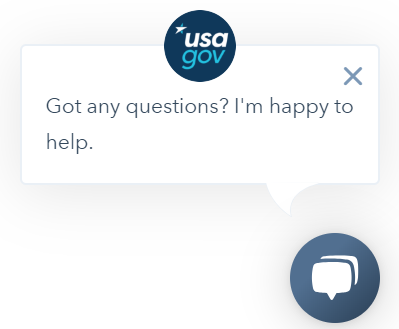 One of our core principles behind the USAGov chatbot is consistent, iterative improvements. We recently released our newest batch of small changes and wanted to share them with you.
We changed a word in our opening message directing people to "select" an option instead of "tap" a button. A tip of the hat to our pal Jeffrey Levy over at U.S. Citizenship and Immigration Services (USCIS) who reminded us that only people using the chatbot on a mobile device could physically "tap" a choice.
We removed "What's the status of my scam complaint" from the bot's welcome message. Our data showed us that almost none of our users were interested in that information. We removed it so there were fewer choices and people could more easily find what they really needed from the bot.
We added the option for people to tell us if the bot is helpful or not and how we could make it better. We're excited to see what kind of feedback we get and continue to learn from our users throughout this process.
We're working with our user experience team to set up some live user testing over the next several weeks so we can observe how people interact with the bot on a desktop or mobile device. This testing will help us prioritize our next batch of updates to the chatbot.
To learn more about the research that went into developing and launching our chatbot, explore our recent blog post! Be sure to check back for updates on this and other special projects.