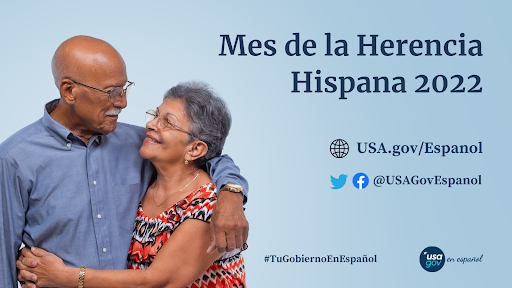 For the last few years during Hispanic Heritage Month, USAGov en Español has partnered with federal agencies in a Twitter chat to let people know about official government information and services in Spanish. If you're part of a government agency, we invite you to take part in this year's chat on October 6, 2022 at 1 PM ET.
During Twitter chats, we:
Host a live Q&A event using the most popular questions inspired by our audience
Amplify conversations through a unique hashtag
Collaborate directly with agency partners and bring attention to their official resources and social media accounts
We're encouraging the public to follow us on Twitter during the event using the hashtag #TuGobiernoEnEspañol. Agency experts from FEMA, NASA, Social Security, the State Department, FDA, and more will be sharing in Spanish about preparing for emergencies, getting government benefits, staying safe on the job, and many other topics.
Our goals during this campaign are to:
Raise awareness that the U.S. government has helpful information for the Spanish-speaking community
Connect people to specific government agencies and resources in Spanish
Let people know about

USAGov en Español

, their official guide to government information in Spanish
If your agency has information for the Spanish-speaking community and you'd like to share your resources during the #TuGobiernoEnEspanol Twitter chat, please reach out to usapartnerships@gsa.gov.
This Hispanic Heritage Month, we can work together to help meet people where they are, with the government information they need.