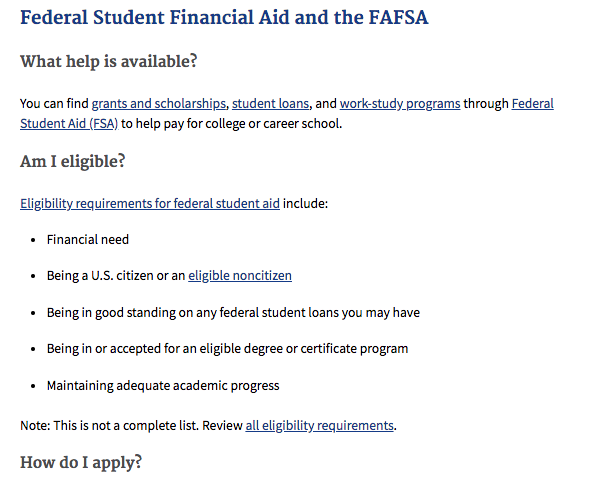 Content on the USA.gov and GobiernoUSA.gov websites provides information on many different government benefits, services, and programs. We group the content into various taxonomy buckets to make it easier for people to find what they are looking for. But after listening to user feedback, we realized that content about different programs wasn't always written in the same style and format, which made it hard for people to find what they were looking for across topics.
To address this challenge, we decided to pilot standard templates for two of our most popular types of content: government benefits and scams and frauds.
How We Developed the Templates
In order to develop the templates, we spent a lot of time analyzing feedback from our customers. We specifically looked at survey responses from our website users and listened to phone calls from our call center. We wanted to understand what types of questions people were trying to find answers to most frequently, and learn the biggest obstacles to finding that information.
When it came to the subject of benefits, we realized people were asking three main questions:
What help is available?
Am I eligible for a specific program?
How do I apply for that specific program?
For our scams and fraud information, we learned that people wanted to be able to quickly identify if they had been a victim of a scam and if so, how to report it.
Based on those findings, we restructured all the content in our benefits and scams sections to make the most looked-for information easier to find.
Testing the Templates
In our new benefits section, users can now easily jump from benefit to benefit and information is laid out in the exact same format. For example, if someone started on our food assistance page, and then moved on to our page about help paying certain bills, they would find information in the new streamlined template with clear headings so they could quickly determine if they qualify for various programs.
We took a similar approach with our scams information. Now no matter whether someone is reading about IRS imposter scams, telephones scams or one of the many other types of scams, they will find:
A quick summary of the scam to help them determine if they've been impacted
How and where to report the scam
Some quick tips on how to avoid this type of scam in the future.
We plan to test the success of these templates by monitoring new comments coming in through our web surveys and listening to more phone calls from our call center. If we find that people are better able to find answers to their questions now, we'll have some validation that these new templates are working.