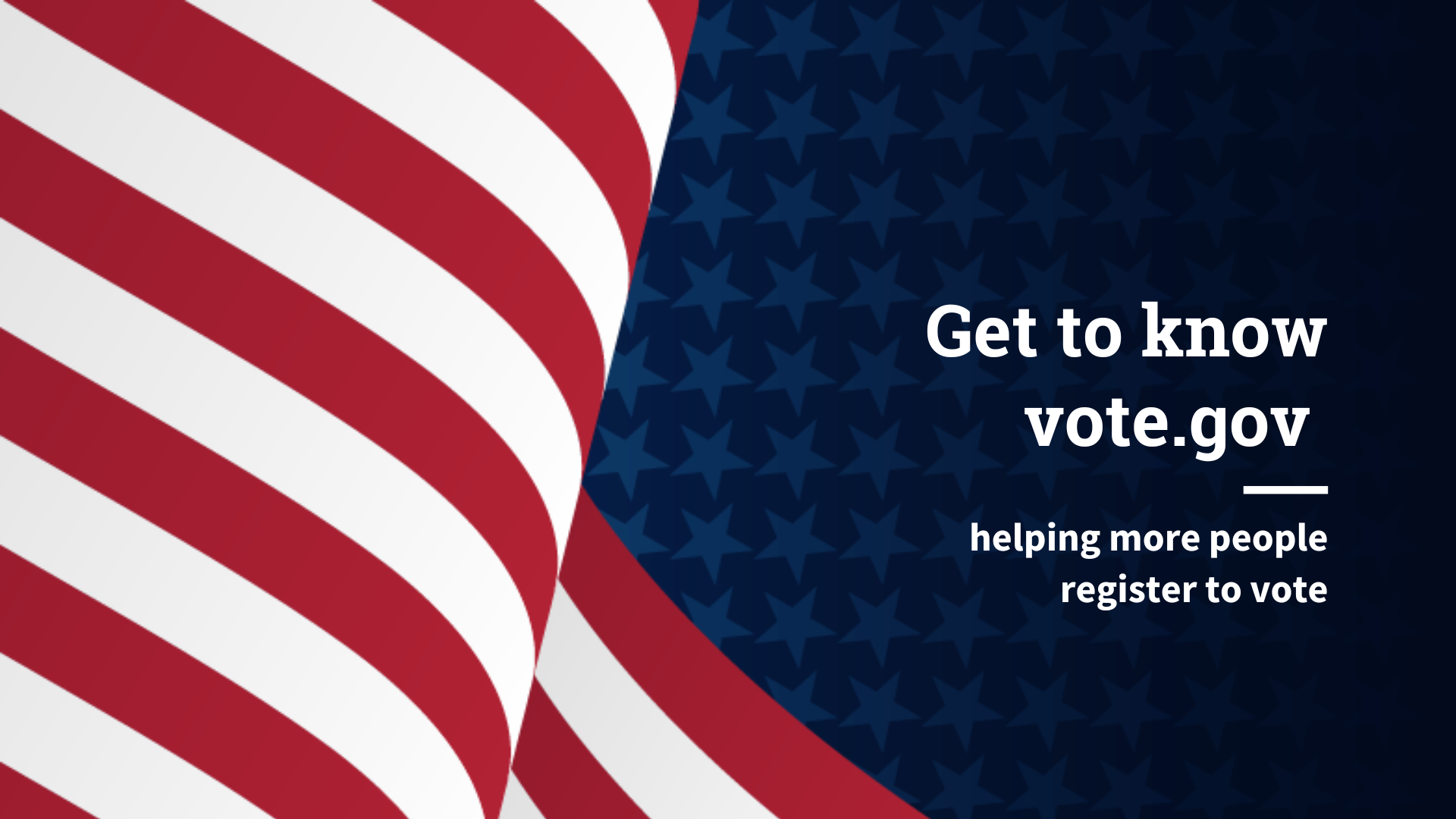 The vote.gov website is the primary authoritative non-partisan resource for voting information for the public from the federal government. We help people register to vote in their state and work to break down barriers for all voters regardless of background, socioeconomic status, race, ethnicity, national origin, or age. We provide content in 12 languages, with more to come.
What we do and why
This website was established in 2016 as a voter registration tool. It grew following the 2021 Executive Order on Promoting Access to Voting. The Executive Order tasked vote.gov with modernizing and upgrading the site's user experience to promote access to voting, especially within underserved communities.
Our goals are to:
Increase the number of people who register to vote
Make the voter registration process easier
Answer common questions about voting
Build greater trust between government and the public
To reach those goals, our dedicated team of developers, researchers, and designers is working to improve the user experience by:
Expanding language offerings and content based on user needs
Increasing accessibility for people with visual, cognitive, and other disabilities
Conducting user research in multiple languages to make sure our content resonates with people of all backgrounds
Expanding vote.gov's reach through partnerships
We partner with government agencies and nonpartisan, third-party organizations, such as the National Association of Secretaries of States (NASS) and the National Association of State Election Directors (NASED), to promote access to voting. Some of our government partners include:
Election Assistance Commission (EAC): We work directly with EAC to gather state-specific deadlines and other state eligibility and registration details for the public to ensure that vote.gov is accurate and up-to-date.
Department of State: We've partnered with the Bureau of Consular Affairs to promote vote.gov at 24 passport centers across the country. We designed digital slides that will be displayed at these passport centers for people to see when they're waiting to apply for and pick up their passports.
Department of Education: StudentAid.gov, the site featuring the Free Application for Federal Student Aid (FAFSA), will be adding a link to direct students to vote.gov for helpful registration information.
United States Citizenship and Immigration Services (USCIS): We're exploring ways to promote voter registration for newly naturalized citizens once they complete their oath ceremony.
Cybersecurity and Infrastructure Security Agency (CISA): We're partnering with CISA to add more information to the site that will address misinformation and disinformation about elections.
In future posts, we'll share more about the work and research the vote.gov team is doing to help more people register and become educated about the voting process.
If you're from a federal agency looking for new ways to reach your audience, learn about partnering with us at usa.gov/partnerships.