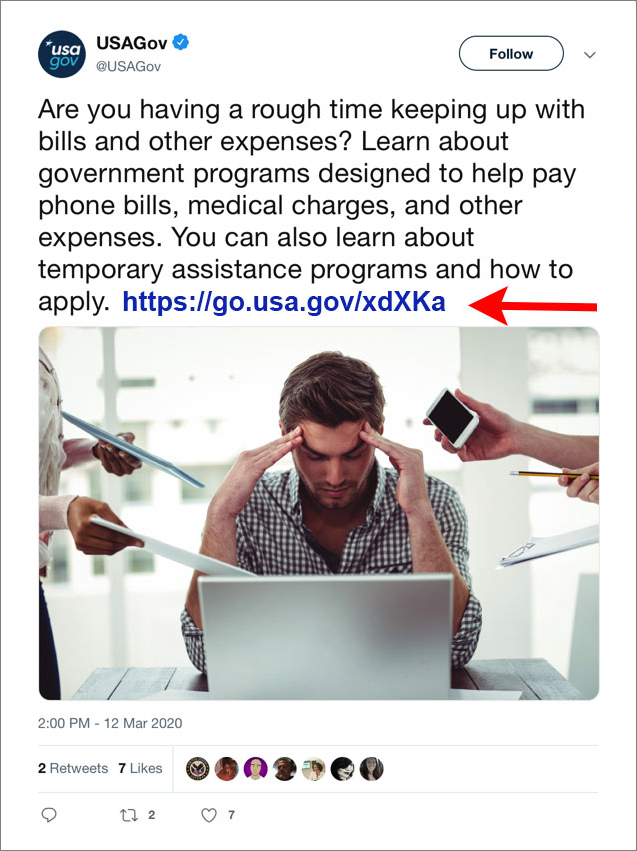 How do people use Facebook and Twitter differently? Do they know which accounts and links in social media posts they can trust? What started as a USAGov study of people's thoughts about short links in Facebook and Twitter posts taught us more than we were expecting.
The Participants
We did live, remote interviews with 10 social media users: four female, six male. They were between the ages of 20 and 48 and represented a range of education and income levels.
The Interviews
We showed participants Facebook and Twitter posts from the CDC, NOAA, and USA.gov. Five participants saw posts with Go.USA.gov short links and the other five saw posts with Bitly (bit.ly) short links.
We wanted to know:
How they could tell if a social media account was officially from the government
What would make them hesitate to click a link in a social media post
If seeing ".gov" in a link made a difference
What We Learned
Participants spent 1-2 hours a day on Facebook and/or Twitter and had specific uses for each. They reported using Facebook for keeping up with their friends and family and being part of Facebook Groups. They used Twitter for getting the latest news, especially about the coronavirus, and other emergency updates.
Having an official logo and a verified social media account is important. Participants knew to look for the blue checkmark to verify that an account was the real thing.

"I would see the source and look at the comments and number of likes, then click on the account to look at the info."
Six of the ten participants would not click on or hesitated to click on bit.ly links.

"I think it (the post) is ok, but what concerns me is that it's a bit.ly link and I would not click on it. I don't like link shorteners, don't trust them."
While participants were wary of bit.ly links, they did trust Go.USA.gov and other .gov links. All the participants said that they would click on a link, even if it's a long link, if it had .gov in the domain. They knew they could trust the official nature of information with a .gov link.
"Bit.ly can mask URLs. (But) you can see the true root of the URL with the .gov link."

These findings will help our outreach team as it selects the types of links to use in our social media posts. They also show us that people pay attention to the authority of the social media accounts and posts they see.