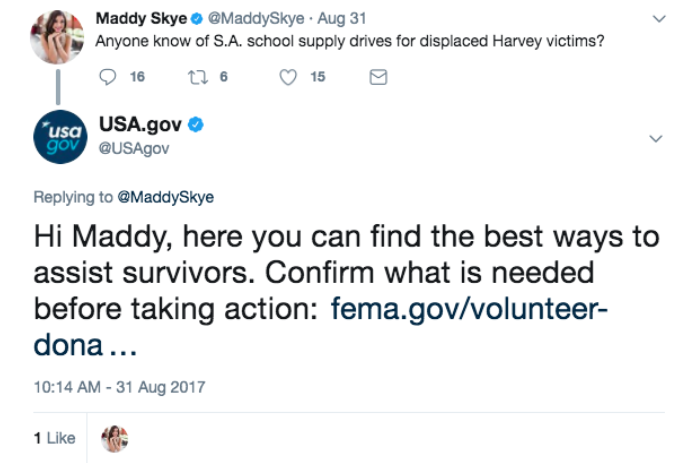 After studying the latest research and monitoring trends with our Twitter audience, we are experimenting with three new ways to better connect with Spanish speakers.
Our new approach will help us meet our audience where they are, increasing the direct and personalized assistance that our audience needs, while reducing the number of generic posts we share from the account.
Here's what we're trying
Talk to Us
Whether you are an individual seeking an answer about a government program or service, a fellow agency that wishes to partner with us, or a member of the media looking for information for your audience, just chat with us. Tag @GobiernoUSA in a post on Twitter to ask us a question directly. We constantly monitor our social media presence and we'll find an answer for you. If we can't answer you right away, we'll help you find someone who can.
We're Bilingual
Our data shows that our Hispanic audience is tech savvy and consumes content online both in English and Spanish. This is especially true of the younger generations. Our team has members of different age groups and backgrounds, and we know how vital bilingualism is in everyday life. Starting now, we'll be communicating in both English and Spanish from the GobiernoUSA Twitter account. Ask us in whichever language you are most comfortable in, and we'll answer back in that same language.
Active over Reactive
In many cases, our audience doesn't know we can help them through the issues they currently face. As part of our new strategy, we will be more active listeners -- monitoring trending topics so that we can give you the help you need. If you're tweeting questions about renewing a passport or facing consumer issues, we'll help to resolve your question. If you're a social influencer with a niche audience like travel, education, or retirement and need information about a certain program, we'll guide you to the right resource.
You can monitor this blog because we'll be sharing updates along the way about what we learn from these experiments.
Edgardo Morales is an Outreach and Social Media Specialist with USAGov/GSA. Andrea Castelluccio is an Editor for USAGov/GSA.