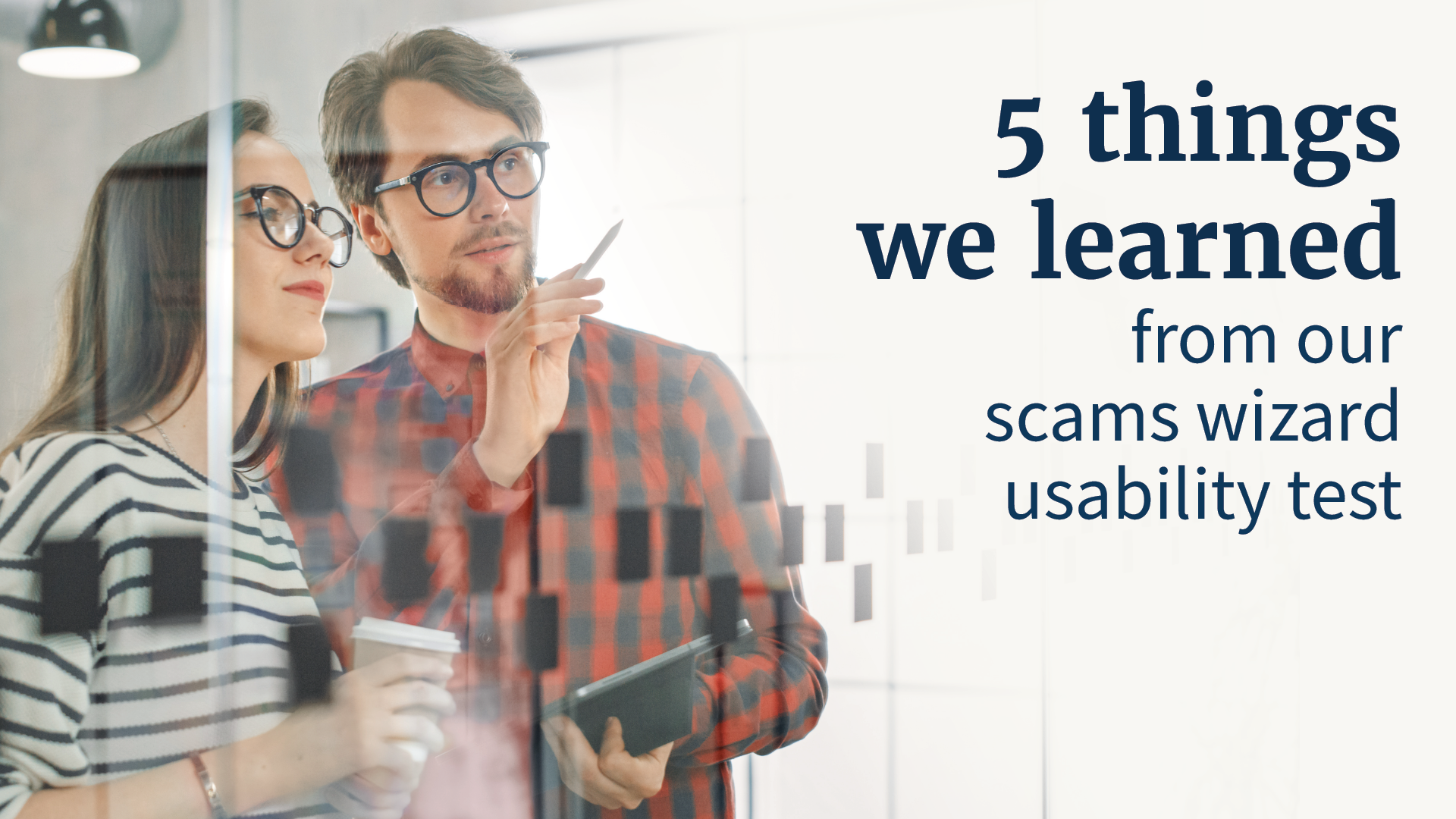 USAGov works to make it easier to find and understand government benefits, programs, and information.
People often come to us wanting to report scams but don't know which kind of scam should be reported to which agency. And many experience emotional harm as a result of being scammed. USAGov's usability (UX) team kept this in mind as we developed a pared-down process for our visitors to easily report a scam.
We decided that a wizard would work best and created a version in English for USA.gov and a version in Spanish for USAGov en Español. The tool offers a step-by-step process that allows visitors to answer a few simple questions to find out where and how to report the scam they experienced.
We recently performed usability testing on both versions of the wizard, with the goals of:
Learning if our visitors could navigate a page without any difficulties and find the information they were looking for
Seeing if the tool could answer real-world questions
Confirming whether the wizard was the best approach for this kind of sensitive content
Here are 5 things we learned through testing:
1. Reporting a scam can be stressful.
Due to the sense of urgency and sensitive nature of reporting a scam, test participants vocalized how stressful it was not knowing how long the reporting process would take. By moving from our old websites' text-heavy scam information to our new sites' wizard tool, we found that less wording and a clearer path made participants feel calmer and more confident.
2. The terms "identity theft" and "impostor" were confusing.
Identity theft happens when someone gets and uses another person's personal data through fraud or deception, typically for financial gain. An impostor is a person who pretends to be someone else to deceive others. Since the two terms seem similar, these two options were confusing to most of our participants.
3. Participants were looking for the words "online," "internet," or "text message."
Rather than asking for help for specific types of scams, many participants asked for help according to where the scam took place, such as by text or online. To make reporting easier, we're considering adding an initial page to the wizard to give people the option of finding help according to where a scam took place: online, by phone, text, mail, or some other way.
4. We initially had difficulty recruiting Spanish-speaking participants.
We noticed this study was not as popular among our Spanish-speaking audience members. But, it was important to test the tool with Spanish speakers because Latino communities are often hit by scams involving immigration and work-from-home opportunities. After further research, we translated the screener from English to Spanish to attract Spanish-speaking participants. And we switched out the word "estafas" (scams) for "fraudes" (fraud) once we saw that "fraudes" was the more popular search term used by our Spanish-speaking audience.
5. Participants wanted each scam category to be more descriptive.
The most confusing categories for participants were identity theft, imposter scams, and romance or catfishing scams. Because not all of our participants were familiar with the scam categories we used, many said it would be helpful to add a description to each category.
We're planning more research and improvements for our scams wizard based on the feedback we received from our usability testing participants. We'll start with a card sort to help us make labels more understandable. Then we'll take what we learned and create a prototype with improvements and features to test with more participants before we do further development.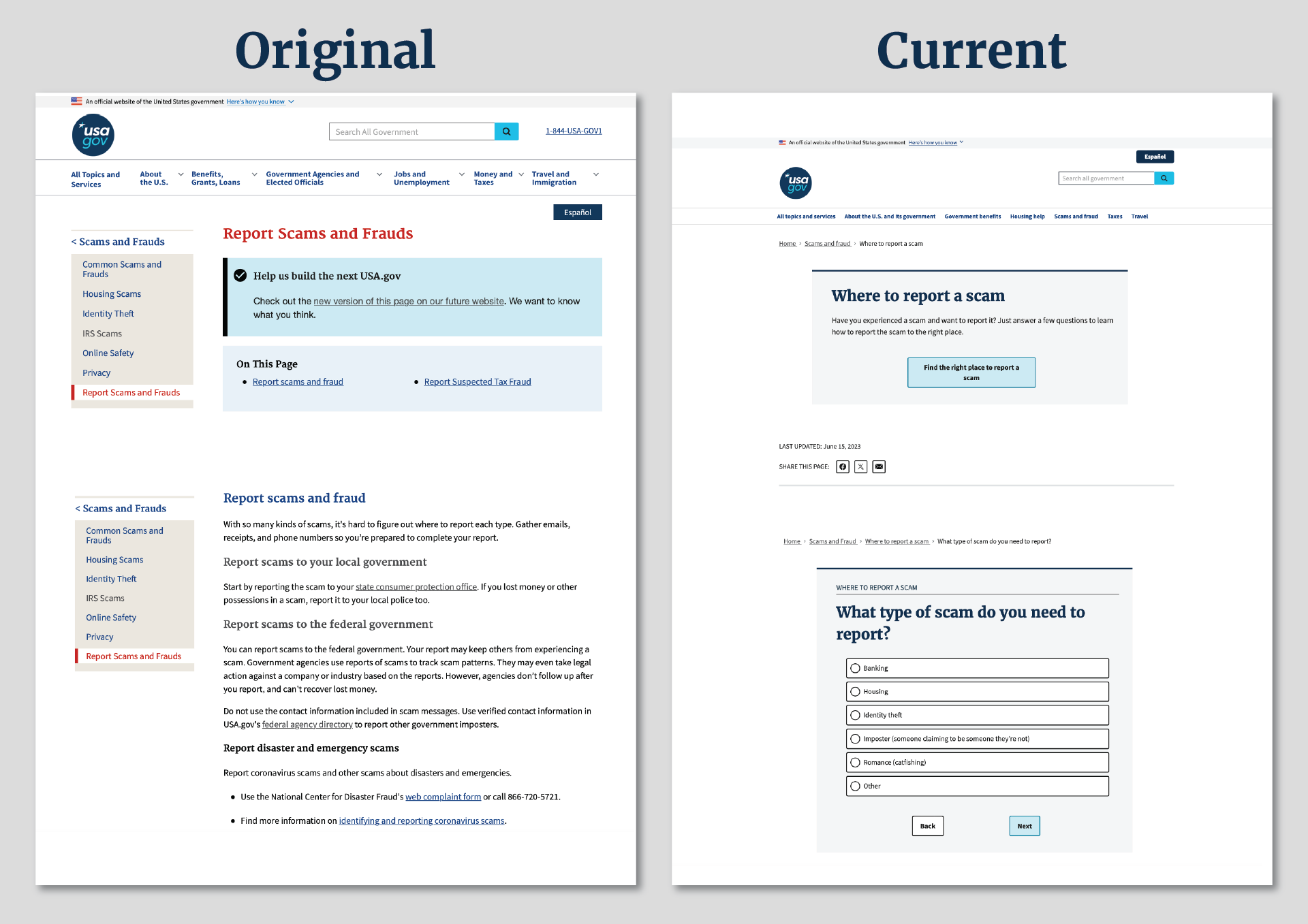 Caption: Comparison of the original USA.gov scams wizard page (left) and current state of the scams wizard (right).