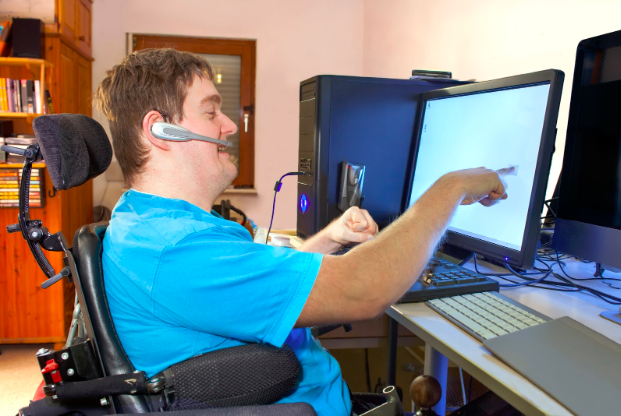 Section 508 of the Rehabilitation Act of 1973 requires federal agencies to create products and information that give employees and members of the public with disabilities access that's "comparable to the access available to others." But 45 years in, many teams and organizations across government still struggle to meet this mandate.
At USAGov, we have a team of accessibility subject matter experts that makes sure the products, services and content we develop are as easy to use as possible for people with disabilities.
Here, USAGov's Senior Innovation Specialist David Stenger fields five questions:
What's one thing people may not know about accessible design?
Just how easy it is to meet the WCAG 2.0 requirements. Design for all people, not most. Take advantage of the content so that every possible user can enjoy, interact with, and access the information and data available on your website. Engaging in this practice will help develop a wider market.
What are some of the most common 508 violations that you notice?
The most common mistakes are missing alt text on images, no visible focus for people using a keyboard instead of a mouse, and keyboard traps. These are also the easiest to fix from the start. It's very important to have clean code. Semantic markup is the key to accessible websites.
How can people learn about the basics of accessibility?
People can learn from a number of places that offer training. I always tell people the best place to start is on Section508.gov and, if you're a developer, learn semantic HTML5 markup.
Is there any anecdote that has stayed with you, that illustrates the importance of accessible design?
Almost everyone will be temporarily or permanently impaired at some point in life, and those who live into old age will experience increasing difficulties in functioning.

I hear my wife yell every month when she tries to pay our daughter's rent or utilities online: "You need to design this website for them!" The website does not show focus so you can't see where you are on the site, and that's just the start of it. The biggest issue is that you can't just log in and select a button to pay the rent. They give you a cart type page that has you select what you want to do, but nowhere on the page does it have you select "I want to pay rent." You have to click four pages down into the site to pay the rent on a page that's titled Living Essentials. Now tell me who would think that is where you pay your rent?

This just shows you that a poorly designed website is inaccessible to everyone, no matter if you have a disability or not.
When people talk about making a digital product "accessible," many think of screen readers for the blind or other visibility accommodations. What are some other disabilities that are important to design for?
Physical or motor disabilities - make large clickable actions, give form fields space, design for keyboard speech-only use, and design with mobile and touchscreen in mind.
Dyslexia - Use images and diagrams to support text, align text to the left and keep a consistent layout, consider producing materials in other formats (audio or video), keep content short, clear and simple, and let users change the contrast between background and text.
Autism spectrum - Use simple colors, write in plain language, use simple sentences and bullets, make buttons descriptive, and build simple and consistent layouts
Stenger also leads the Accessibility Guild, a working group that meets weekly to share knowledge, offer guidance — and field your questions!